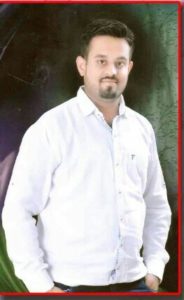 Name                          -Nikhil Asrani.
Date of Birth                -19 Nov,1993.
Time                            -04:45 P.M.
Place                           -Katni (M.P).
Height                         -5′.11″.
Qualification                -B.E.
Complexion                 -Fair.
Contact At                   -Not Available.
——————————–Family Background—————————-
Father's Name            -Mr. Lakhan Asrani.
Mother's Name           -Mrs. Kanta Asrani.
Grandfather's Name   -Shri Dharamdas Asrani.
Brother                       -Two (1 Elder).
Brother  Details          -Elder Married At Bhusawal (M.H)
     With D/o Rajkumar Kalani.
Sister                         -One (Elder).
Sister Details             -Married At Itarsi (M.P)
     With Mr. Rahul MIhani.
Business                    -1). Sun Shine Suits
     2).Lakhan Genral Stores
     Of Market Katni.
Nanihal                      -Shri Kotumal Sundrani,Jabalpur..
Nukh Dadani             -Rai Khangar.
Nukh Nanani             -Batar.
In Sindh                   – Dist-Larkana.