Mohit Mandnani-rishtekhojo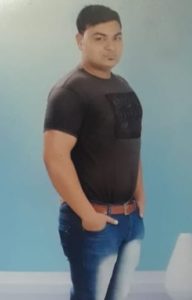 Biodata-
Mohit Mandnani
Groom
16/11/1995
7:05:00 pm
Khandwa, Madhya Pradesh 450001, India
5'6"
12th
Fair
Smart
Business of Katlari Itaem.(Gandhi Bhawan Gate In Dhudh Gali, Station Road Khandwa).
Not Available
Not Available
Not Available
No
Tagore Colony Behind Of Saltempal, Gali No.5 Khandwa.
8602845140
Family Background-
Shri Shankar Lal Mandani.
Late Shri Ramchand Mandani.
Smt. Renu Mandani.
None
None
None
2
1
1
Kakka.
Jethda.
Dadu.
Sister : One Sister Married In Bhurhanpur with Jayesh Kishor Kumar Wadhwani.