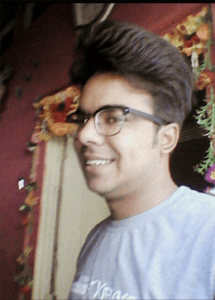 Name                          -Mayur Kapoor.
Date of Birth                -11 Aug,1992.
Time                            -09:45 A.M.
Place                           -Harda.
Height                         -5′.8″.
Qualification                -M.Sc. (Computer Science)
Job                              -Asst. Manager at Syndicate Bank, Harda (Gov. Job).
Contact At                   -9926822120,8817061692.
——————————–Family Background—————————-
Father's Name            -Mr.Jawahar Lal Kapoor.
Grandfather's Name   -Shri Rizumal Kapoor.
Brother                       -One (Married).
     Marred to Sona Kotwani, Satna.
Sister                          -Three (2 Married and 1 Engaged).
Business   Address     -Bake N Sip, Near Priyanka Nursing home,
      Harda (M.P).
Nanihal                      -Shri Sananmal Zamnani, Amravati.
Nukh Dadani             -Kapoor.
Nukh Nanani             -Zamnani.
In Sindh                    -Larkana.