Deepak Kundlani-rishtekhojo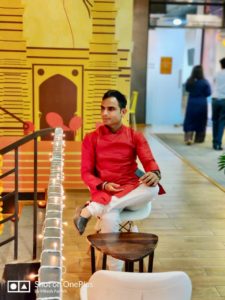 Biodata-
Deepak Kundlani
Groom
14/04/1988
8:10:00 pm
Veraval, Gujarat, India
5'10"
Fair
Smart
CA working in Capacity of Assistant Manager in KPO
10 lakh
Occasionally
No
Occasionally Non-Veg
Yes
Apartment no. 202, Harihar Residency, Sardarnagar, Ahmedabad - 382475
9974240999
deepak.kundlani1404@gmail.com
Family Background-
Kishorkumar Kundlani
NA
Leela Kundlani
Balchand Kundlani
None
None
None
None
None
None
Jairam Awtani
Hello and Namaste,

Hope you are well.

About Me:-

I am an independent, self made and hard working person. And with the blessing and support of my Mother I had became CA (Chartered Accountant) in 2012. She raised me on her own and made me a good, kind and strong person.

I had started my career and took up the my first job at a very young age (to support myself and family) and worked for about 3-4 years in BPO industry along with studies and after that switched for professional degree and done CA. I have 6 years of post qualification experience.

I am okay to move to any metro city or internationally. And it's truly said that "Behind every successful man there is a woman", it can be his mom, wife or sister. So searching for partner who is independent and career oriented so that grow together and who can stands beside me in every situation and we can achieve the success and prosper together. Preference would be a independent and strong girl who understands the real struggle of life and appreciated and respect what I had done in my life.

I believe that Marriage is long term relation not just between a girl and a boy but between two families. I have maternal family who took very good care of me and look forward to be the part of Brides family and wanted to enter as son in their family rather than son-in-law.

Please note, I am financially independent to take care of myself and my partner. I currently stay at my own house (flat) which is nearby my Maternal Family and earning well.

I believe in keeping balance in personal and professional life and try to be fit and keep surroundings clean. I am very shy at first but latter on when I feel comfortable with the time, I can be one's age old school friend. I am a bit religious but at the same time I do keep modern approach in life. I love pets, believe in social work, love to Watch movies and fan of Marvel, DC Superhero's and Disney's musical and fantasy movies. Also love to watch the romantic movies and prefer to watch web series like GOT, etc instead of regular TV shows.

I can keep going on and on but let's keep little mystery for later. So if you find the same interest to know more, let's connect to get to know with each other and continue the mystery.


"Well it is said – Do the Things from your Heart and rest will be taken care by Nature and God.

And always follow your Heart – so here that I am searching soul mate via this platform to tie a sacred Knot of Marriage".

If you have got the same feeling right in your Heart and ready to carry out the new adventure in your life....then let's connect and get to know each other......

But you can connect with me here or on any social media...!

P.S..- I wish to get settled down by getting married within 6 months or mutually agreed.!

Thanks for stopping by.

Good Luck for your search.

Stay Happy and Fit and Stay Safe.

Regards
Deepak Kundlani
I would prefer a friend cum partner with whom I can walk miles through the journey of life and live till 80's (from Dimples to Wrinkles) with hand in hand could say WE MADE IT. Need a strong girl who respect and understand my struggle till date. I want her to stand by with me rather, behind me. And as shown in latest series of Money Heist, Love has power to change the sides, so looking for something like that with whom i could fall in love everyday and give life a meaningful thought and go on a never ending Journey of relationship.

A qualified professional will be given more preference who has determined career and we motivate each other to achieve each other's career and personal goals. I would loved it, if she is the drama queen or filmy type with blend of maturity with whom i can share my all secrets (my crime Partner), we cook together, go to Gym together and share our household work. I will try to become her hero of the life (Second one after dad). I would prefer (its just preference and not mandatory) partner who is already in or wishes to settled abroad and experience the living life at across Globe.
Groom from Veraval, Gujarat,
Full Name-Deepak Kundlani
Marital Status-Groom 
Manglik-No
To See Profile's Detail Visit- rishtekhojo.com